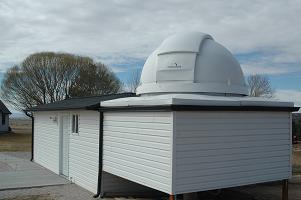 Most recent update February 7, 2023
Updated "Equipment" March 26, 2022 (Telescope Mount)
Updated "Astrophotography Gallery"
Feb. 7, 2023
"Comet C/2002 ZTF"
Updated "Sky Viewing Blog" February 7
, 2023
Updated "Amateur Observatories" Removed broken link. Sept. 9, 2021
Updated Friendly Links Page March 17, 2022. "Added Dan's Pier Tops"
Updated "Observatory" Added "Observatory Security" Oct. 24, 2020
The purpose of this Amateur Backyard Observatory near Oak City, Utah, is to introduce the budding Astronomer to the wonders of the Universe.
The page is laid out with the following Tabs:
This section gives my insights of the evenings viewing's. This is a running Astronomical Blog telling what I viewed, the viewing conditions, and essentially the highlights of the evening.



Here you can see the images that have been captured. It will be broken down into "Solar System, Stars, Nebulas, Galaxies and other Celestial objects.
An Explora-Dome Observatory showing the construction and tips telling what to do and what not to do. I will explain why I chose a dome and give the pros and cons between Domes and Roll Off Roof designs.
Here I introduce the heart of the observatory. Celestron CGE Mount, Guide Scopes, StarShoot Autoguider Camera, PHD Autoguiding software, Stellarium scope control and more.
This tab has information about "Polar Alignment" with the Celestron NexStar polar alignment routine, information about Stellarium planetarium software and observatory information. This is an ongoing section.
Here are some links to some great observatories around the world.

I wish to thank my wife Jayne and her encouragement without which this project would not have been possible.

My son Brent the photographer and engineer, who encouraged me to get a "Big Lens" for his camera.

Mike my son in law who helped me in developing this web site.

Dr. J Moody Professor at Brigham Young University for his technical advice